Export Analysis of Lunar Bulbs in November 2017
---
According to the latest data from the "China LED Lighting Export Monthly Report" by Hi-Tech Think Tank and OFweek Industry Research Center, in November 2017, among all LED lighting export items in China, the export value of bulb lamps was the largest, at US$359 million, accounting for about 359 million US dollars in total exports. It was 15.7%, an increase of 20.1% month-on-month, and the cumulative export value in 2017 was 3.22 billion dollars.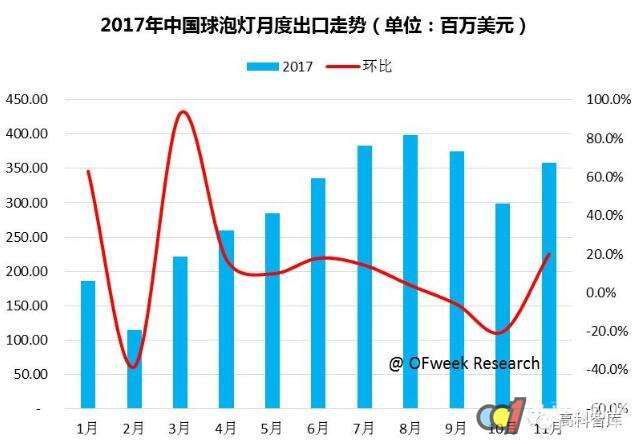 Exporting Country Analysis
The United States, Brazil, Japan, Germany, France, etc. are the main exporting countries or regions of this lunar light bulb, of which the export value of the United States is 92.63 million US dollars, accounting for 26%, and the export value of the TOP10 exporting countries is 207 million US dollars, accounting for 58%.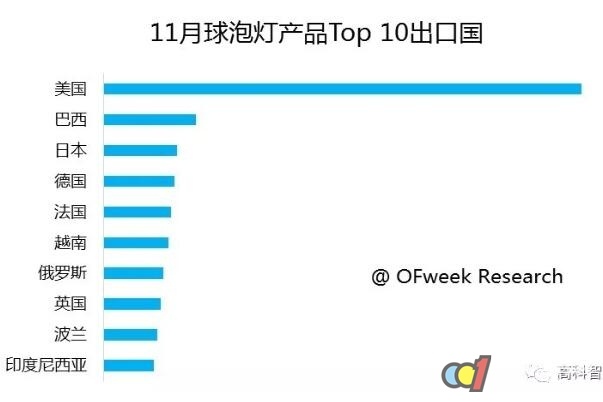 Export Enterprise Analysis
The total export value of the top 10 exporters of lunar bulbs in this year is 121 million US dollars, accounting for 33.6% of the total. The top three exporters are: Zhangzhou Daxin, Shanghai Qiangling Electronics and Zhejiang Hengdian Debang.
Among the TOP10 exporters of bulb lamps, except for Xiamen Sunshine Ennai and Dongguan Expressway, the rest of the companies have experienced month-on-month growth of varying degrees, with the largest decline of 66.8%. The top three companies with month-on-month growth are: Shanghai Qiangling Electronics, Xiamen Longshengda, Ningbo Kaiyao Electric.
Related News